ACTIVITY
Jozani Forest
Duration: 1/2 day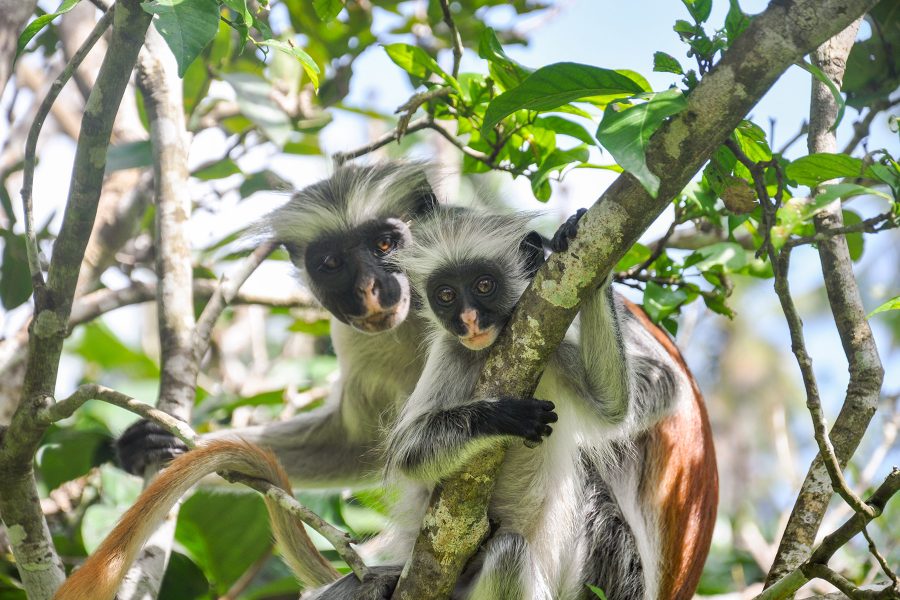 On the south of the island, there is a magical forest called Jozani Forest, the scenery of this typical forest is unique in many different ways. Jozani Forest is currently being considered as Zanzibar's second world heritage site! The Jozani-Chwaka bay area is a hotspot of biodiversity, the forest is home to several endemic species, including the Zanzibar Red Colobus Monkey.
Your park ranger will take you on a nature trail, lined with eucalyptus and mahogany trees and explain the medicinal properties of various plants, and tell you about the animals, birds and reptiles that make their home in the various habitats of this tropical rainforest. Troops of Zanzibar Red Colobus monkeys can be found scrambling from branch to branch, in search of food. The monkeys have become accustomed to people and allow you to get close to them to take photographs as they eat, play and jump from the treetops. The mangrove boardwalk takes you above the swamp where, depending on the tide, you can see crabs scuttling across the mud. Mangroves play an important role in environmental conservation and act as a resource for villagers and community life. Your ranger will explain the different species found in the swamp and their uses.
Price per person starts from 59$
Price variable, depending on the number of people and transfer. Please submit an enquiry, so we can come back to you with the best deal we can offer for your request. .
Make an Enquiry for this activity?