8 DAYS
Enjoy Zanzibar Holiday
Discover Stone Town
Mnemba snorkeling & Nungwi sunset experience
Jozani Forest & Dolphin adventure
Spice Farm Tour
Day By day
Day 1

Transfer: Airport Zanzibar – Dream of Zanzibar Hotel
Overnight stay in Dream of Zanzibar Hotel (B&B)

Day 2

Discover Stone Town with slave market visit & Prison Island Tour
Overnight stay in Dream of Zanzibar Hotel (B&B)

Day 3

Spice Farm Tour
Transfer: Stone Town – Paradise Beach Resort
Overnight stay in Paradise Beach Resort (All Inclusive)

Day 4

Rest and relaxation day
Overnight stay in Paradise Beach Resort (All Inclusive)

Day 5

Mnemba snorkeling & Nungwi sunset experience
Overnight stay in Paradise Beach Resort (All Inclusive)

Day 6

Rest and relaxation day
Overnight stay in Paradise Beach Resort (All Inclusive)

Day 7

Jozani Forest & Dolphin adventure
Overnight stay in Paradise Beach Resort (All Inclusive)

Day 8

Transfer: Paradise Beach Resort – Airport Zanzibar
Dream of Zanzibar Hotel
Located in a beautiful and characteristic building in the heart of the old centre of Stone Town
Dream of Zanzibar Hotel is a bed and breakfast hotel, located at only a 2-minute walk to the beach and a short 15-minute drive from the airport and ferry terminal.
The surrounding area is authentic Stone Town, with cobbled alleyways, kids playing in the street, local food stalls and markets, curio shops and cafes by the shoreline.
A short walk down the road will provide access to a variety of restaurants and bars boasting sunset ocean views and delicious cocktails.
Shaba Boutique is in a perfect location, allowing you to explore the culture and history of the city while proving to be a wonderful 'home' base for prison island and spice tour departures.
Shaba is the ideal place to stop overnight on arrival into Zanzibar or prior to departure from the Island.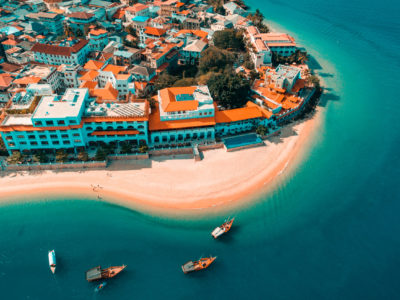 Paradise Beach Resort ****
Located in Marumbi, on the east coast of Zanzibar
Paradise Beach Resort is an 80 room resort set on an idyllic sandy beach in a quiet laid back area. The hotel has an impressive variety of rooms with differing sizes and bed layouts that cater to all travellers, especially suitable for families and group travellers.
There are rooms that are accessible without stairs and the property is well mapped out with easy access pathways making it suitable for the less mobile traveller.
The resort facilities include a large swimming pool, a children's pool, white sand low/high tide beach and jetty with lounge bar right on the Indian Ocean.
Whether travelling with your partner, friends or as a family with children, we offer an extensive array of amenities that cater to the diverse needs of today's modern day traveller! For those wanting a more restorative and relaxation focused holiday we offer an on site Massage and Wellness Centre, ample beach lounging space as well as various bars and restaurants.
For the more active traveller we have a fitness centre, games room, dive centre and excursions desk for all your activity planning.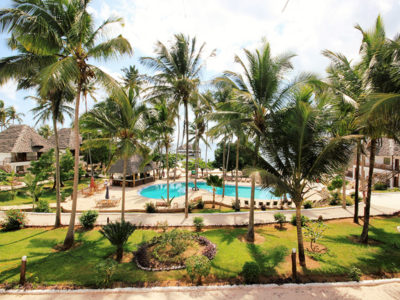 Stone Town Tour
Discover Zanzibar's capital city in our half day trip!
Follow the trail of the Sultans, slaves and explorers in the winding streets of Stone Town. Your guide will captivate you, retelling the events that shaped Zanzibar, leading you through the buildings where it all happened, like the former Slave Market and Anglican Cathedral, the House of Wonders and the Sultans' Palace Museum, the Freddie Mercury House, the Old Arab Fort and Dispensary and many more.
While tracing the steps of the past, the walking tour provides you with a win- dow into modern life in Stone Town. Explore the spice markets, seafood and fish piled in the fish market, fresh loaves of bread in wicker baskets and the neat stacks of fruit and vegetables as traders sell their wares from their stalls. Children play while men enjoy board games.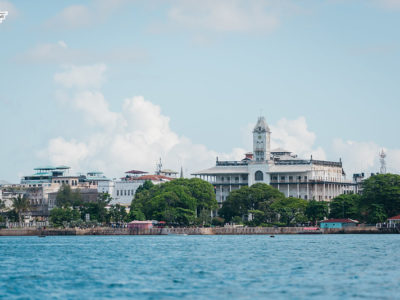 Prison Island Tour
You'll never forget Prison Island: with the giant turtles and it's incredible su- rrounding coral reef.
Prison Island, looking on the coast, gets its name from the prison built to condemn Zanzibari citizens to the isolation of the island. Previously ow- ned by an Arab to house his rebellious slaves, the prison was never actually used, and the island is now home to a tortoise sanctuary and a hotel.
Prison Island is 20 minutes away from Stone Town by boat, and has spec- tacular coral reefs for you to enjoy. Giant tortoises shuffle through the trees, with the infinite patience that old age brings. Originally thought to be from the Comoros Islands and Seychelles, some of these tortoises are thought to be over 100 years old. Stately and lumbering, the tortoises have even been known to take chil- dren on a ride.
After the trip to the tortoise sanc- tuary, you ́re left to explore the is- land. If you ́re feeling active, you can follow one of the hiking trails, snorkel in the crystal clear waters in search of colorful tropical fish darting through the reef or soak up some sun on the powder white beach.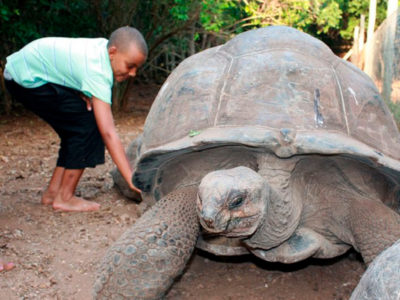 Spice Farm Tour
In this excursion you will be able to learn about a lot of spices that are used in Zanzibar for cooking.
Walk through the spice farm with your guide. Touch, smell and taste di- fferent spices and tropical fruits. Try to guess which is which, from the crus- hed leaves, the fruit, shoots and vines and creepers crawling up to the trees. Learn about their properties, their orig- ins and their uses as medicines and in food and drinks.
A visit to a spice farm village gives you an insight into local life and gives you the opportunity to try some authentic Swahili dishes, taste the f ruits in season and try some spiced tea.
Depending on the season, you can find anything from vanilla, cardamom, cinnamon, nutmeg, turmeric, lemon- grass, cloves, cumin, garlic, ginger, co- riander, pepper, allspice, tamarind, jac- kfruit, custard fruit, orange, star fruit, banana, pineapple, tangerine, passion f ruit, mango, avocado pear, papaya, grapefruit and many others.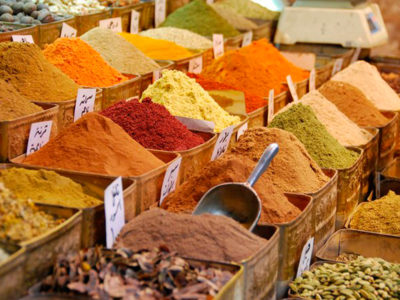 Mnemba Snorkeling
Zanzibar is great for diving and snorkling, so you better won't lose the opportunity of your life to see lots of marine life!
Discover the underwater world of this marine sanctuary and its magnificent coral reef. You can see stingrays, barracudas, powder blue surgeon fish, clown tiger fish, long horned cowfish and many more. It's as if you were snorkeling in an aquarium. The waters are very shallow and we will take you to different areas around the island.
Depending on the tide, we can get close to Mnemba, and a short boat trip will bring us to this fascinating place. It's in the top 10 ranking of the best snorkeling places in the world!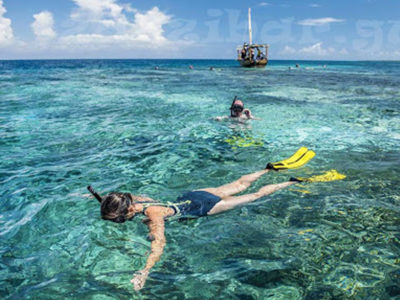 Nungwi Experience
The northern trip of Zanzibar offers some of the most beautiful sunsets in the world. Just discover it now!
Your driver to Nungwi will take you past the fish markets, where you can see the freshly caught seafood being auc- tioned. There ́s a stop at the ruins of an old Portuguese settlement, where your guide will explain the history of the ruins and the Portuguese conquest of Zanzibar, dating back to 1497.
A visit to the Nungwi turtle sanctuary and aquarium follows, where ailing turtles are nursed back to health and released into the ocean. A guided tour of Nungwi village, where mamas wrap- ped in kangas cook over firewood and smiling children play. Walk down to the beach where you can enjoy some free time sunbathing, swimming and snor- keling.
The northern trip of Zanzibar offers some of the most beautiful sunsets in the world. The sky turns pink and gold as the sun sinks over the Indian Ocean. Sundowners and a late trans- fer back to the resort can be arranged if you wish to stay to enjoy the sunset.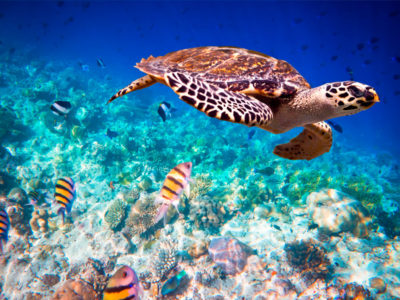 Price per person
(2 pers. – 1 room)
Extra child (2-12y)
Sharing room
Extra adult
Sharing room
Solo Traveller
Single occupancy
$ 980
$ 588
$ 808
$ 1.283
Tourist tax $1,00 p.p.p.n not included
Above prices are a indication for high season with luxury accommodation.
Prices can be lower or higher depending season, type of accommodation and number of travellers.
We are here to help you
Contact Us
Make an enquiry